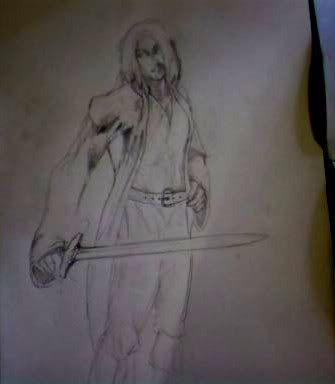 (Lucino)
I'm really beginning to like these chain things, which is odd because I delete every chain e-mail…
This month's chain is 1) describe your antagonist and 2) write a scene about meeting them : ) in 100 words.
Lucino is a young, reptilian lord, who is obsessed with pretty girls (he has a private collection called the dollhouse), perplexed by poetry, and bent on world domination. Did I mention he is super hot?
"Hello Eliza." He glided towards me with the subtlety of a snake.
"Hello…Lucino," I replied while making sure to avoid his intense gaze.
His perfectly shaped brows narrowed. "You will address me as master."
My chest heaved against the constricting bustier. "I will do no such thing."
His cold hands grasped my throat. If I had known how fast he was I would have planned this differently.
"Watch your mouth," he growled.
I slipped out the hidden dagger and held it to his stomach. "Watch your hands." I smiled. In a few seconds, he would never touch another female again.
Oh, that was so much fun to write! Please make sure to check out the other blogs : )
Proach: http://desstories.blogspot.com direct link to my post
Steam&Ink: http://steamandink.blogspot.com/ direct link to her post
AuburnAssassin: http://clairegillian.com/ direct link to her post
dolores haze: http://dianedooley.wordpress.com/ direct link to her post
xcomplex: www.arielemerald.blogspot.com direct link to her post
LadyMage: http://katherinegilraine.com/ direct link to her post
aimeelain: www.aimeelaine.com/blog direct link to her post
jonbon.benjamin: http://jonbonbenjamin.blogspot.com/ direct link to his post
Ralph Pines: http://ralfast.wordpress.com direct link to his post
orion mk3: http://nonexistentbooks.wordpress.com/ direct link to his post
knotane: http://knotane.wordpress.com/ direct link to post
JerseyGirl1962: http://writerlystuff.blogspot.com/